Tino Best made a sensational return to international cricket on Sunday, slamming 95 off 112 balls, while batting at number 11, and innings featuring 14 fours and a six. It was a knock that exasperated the English bowlers and killed the belief that they could finish off the West Indian innings easily. Over the years, there have been a number of instances when tailenders have come into bat and played knocks that would have made top order batsmen proud. In this feature, we look back at some of those special innings.
Anil Kumble: This is one for the quiz freaks. One the 2007 tour of England, only one Indian 'batsman' managed to register a century, and his name was Anil Kumble. It was the second day of the third Test at Oval. Dinesh Karthik had scored 91, Sachin Tendulkar 82 and M S Dhoni a quick-fire 92. However, Kumble stayed put. When the last man S. Sreesanth walked in, the former India skipper was still 24 runs away. However, Sreesanth kept his cool miraculously well and Kumble went about his task in a smooth manner. He got his ton in a nervous manner, under-edging Kevin Pietersen past the keeper. Importantly, he got there and deservedly so. Being such a likeable cricketer, Kumble's achievement remains a lovely fairy tale in Test cricket.
Zaheer Khan: Before Tino Best claimed the record for the best score by a number 11 batsman, it was India's Zaheer Khan who held it. Zaheer smashed 75 against Bangladeshat Dhaka in 2004, and was involved in a partnership of 133 with Sachin Tendulkar, who registered his Test best score of 248 not out. The Indian number 11 in that game slammed 10 fours and 2 sixes in his 115-ball knock. Thanks to the Tendulkar-Zaheer stand, India registered 526 and went on to clinch the Test by an innings and 140 runs.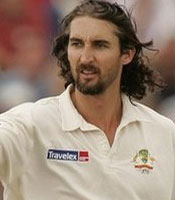 Jason Gillespie: This is almost unbelievable. In April 2006, Jason Gillespie came into bat as night-watchman in a Test against Bangladesh and ended up as the scoring 201 not out. A man with great bowling talent but limited batting ability frustrated the Bangladesh bowlers with his straight defence and odd big shots. He batted for as many as 425 balls and hit 26 fours apart from two sixes, surprising world cricket andcreating a world record for the highest score by a night watchman. In a cruel twist to the tale, the fast bowler never played another Test for Australia.
Shane Warne: In a high-scoring draw at Perth in 2001 against New Zealand, Warne's knock is most remembered, and will always be. Having rescued his side from a position of danger, Warne was just one shot of achieving the dream figure of 100 when he tried to slog Daniel Vettori and gifted away a simple catch. Warne's disappointment over missing out on the landmark was evident in his vigorous head shake. Everybody knew how desperately the leggie wanted a Test ton. This was his best chance, but he threw it away. Warne never got that close ever again. It was a quality knock nonetheless.
--By A Cricket Analyst