Australia former Captain and TV Commentator Ian Chappell has declared that Brian Lara is the greatest batsman ahead of Sachin Tendulkar and Ricky Ponting. Chappell says that Brian Lara does it better in producing the big knocks and that he knows how to play without getting out much better than Sachin Tendulkar or Ricky Ponting. This is the factor that Ian Chappell thinks puts Brian Lara ahead of the other two contemporary greats.

Ian Chappell adds to his judgement saying that Brian Lara scores over the other two because of his quadruple century (400), triple century and 7 double centuries. Both Sachin Tendulkar and Ricky Ponting haven't managed to score a triple century in their Test Career so far. Chappell says that in this century along with the names of Sachin Tendulkar and Brian Lara, Ricky Ponting too belongs to their league of greatness and is very much eligible for it.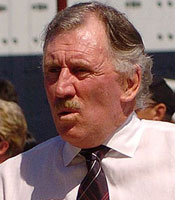 Chappell in his column in a leading newspaper has summed it up saying that after the great Sir Don Bradman, Brian Lara is the best with the same ability to score big hundreds which he had done through his record breaking 400*. Chappel also said that Ricky Ponting will not be able to reach Sachin Tendulkar's records but rated the Australian to have more mental strength than than the Indian little master who has been struggling to reach the 100th International century since a long time!