Garfield Robinson reports on Day 3 of the Second Investec Test between England Vs West Indies at Trent Bridge, Nottingham, May 27, 2012
The West Indies batsmen, in the last session of play, went a long way in undoing the good work their bowlers did in the first two sessions. At stumps on today's third day they had slumped to 61/6, just three runs ahead of England. With just four lower order wickets still intact, and with Tim Bresnan to snaking the ball wickedly back into the right-handers, the hosts would be sensing that the end might come fairly early on the fourth day.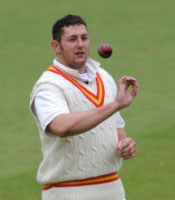 The only real hope for the visitors is that the heroes of the first innings, Marlon Samuels and Darren Sammy, will be the two batsmen there at tomorrow's resumption. Samuels has faced 53 deliveries so far for his 13. He has been resolute almost every innings this series, and there is no reason why tomorrow should be any different. His captain, however, is more impetuous, and might have a hard time maintaining the level of judiciousness that the situation will require.
Again, the West Indies top order proved they were not up to the task and folded meekly, exposing Chanderpaul--in at four because of illness to Kirk Edwards--after just over four overs.
He came in with the score 14/2 and seemed more inclined than usual to play his shots. He aimed a big drive--big for him at least—at Anderson and the ball flashed past his outside edge. A couple overs later Broad somehow managed to draw him into a hook shot; the ball came off his top edge and Jonathan Trott happily accepted the easy catch at fine leg. The raucous celebration that ensued was evidence that England had struck a colossal blow.
Celebration would only have been due to force of habit at the fall of the first two wickets, because the visitor's top four has been rolled over early as a matter of course.
Powell's eyes lit up at a half volleyfrom Anderson, only to see the ball cannon into his stumps as he edged the expansive drive. And in his next over the master swing bowler brought one back into Barath and had him LBW.
Chanderpaul's stay lasted 22 deliveries and 15 minutes, while Darren Bravo fell LBW to the impressive Bresnan after playing a few pleasant strokes. He stood up tall to one delivery from Broad, fairly close to him, and played a scorching cut to the cover boundary. But a good innings is about more than just a few sublime shots, and so the promising Trinidadian has a lot of work to do.
Ramdin was six when Bresnan, utilizing reverse swing to deadly effect, swerved a delivery in from off and he was out LBW.
Kirk Edwards, batting at seven, had as horrid a time at the crease as one could have facing just two deliveries. Both, from Bresnan, came into him and struck him on his pads. The umpire answered no to the first roaring appeal, and yes to the second. And the Barbadian, after a promising start to his test career, has looked nothing like a test batsman this series.
All this appalling batting by the West Indies came after animpressive bowling performance that saw England losing the eight wickets they had in hand for an additional 169 runs.
Ravi Rampaul was his side's best operator yesterday, bowling with swing and accuracy. Today he continued in the same vein and was the first to strike, trapping the dangerous Kevin Pietersen LBW in his second over of the morning.
Roach's replaced Shane Shillingford as soon as the new ball became due and his no-ball problems from last evening disappeared until his sixth over of the day. But by then he had accounted for Ian Bell, for 22, and Jonny Bairstow for four.
Convinced they had hit Bell dead in front, they requested a review that proceeded to overturn the umpire's not-out verdict; while Bairstow, after facing a barrage of short-pitched bowling from Roach, was caught by Chanderpaul at mid-on off a leading edge.
Roach is by some distance the fastest bowler on display, and he--and Rampaul to a lesser extent--targeted the unfortunate batsman from the very first delivery he faced. He was fortunate to survive his second delivery, which spat at him like a Cobra, and he could do no more than fend it off with his glove. Obviously troubled during his brief stay, he will now have to go and re-examine his technique against bowling of that variety, because there is no doubt that more will be directed his way.
Sammy came on with the new ball nine overs old. In the second over of what turned out to be a marathon 16 over spell, he moved one off the seam and into Prior who edged it onto his stumps. Later on, he made a delivery bounce more than Strauss expected and was caught by the keeper. His doubters who claim he does not deserve a place in the side will not easily recall this match when the argument comes up.
Shillingford, who had Bell dropped when 15 by Ramdin, removed Broad to a catch by Sammy, running from slip to the leg side after he top-edged an attempted sweep. He made 25 and was just beginning to frustrate the visitors.
Samuels came on and coaxed two wickets in two overs. He needed the DRS to prove that Swann got a very slight edge on to his pads when he was caught at slip. With the second session extended because the hosts were nine down, he hit Anderson on the toe and had him LBW without scoring.
Bresnan ended unbeaten on 35 to emphasize his value to his side.
Strauss had carefully added a further 39 runs to his overnight 102. Fluent yesterday, he battled admirably for every additional run in more challenging circumstances today. His opposing number will do well to follow his lead when play resumes on the fourth day.