Discarded Pakistan Test cricketer Danish Kaneria has been handed a life ban by the English and Wales Cricket Board (ECB) for his involvement in corrupt practices while playing county cricket. Kaneria's ban means that yet another Pakistan cricketer has been found guilty of trying to fix matches. The Asian nation has been the worst sufferer of the fixing saga, with players' involvement cropping up at an alarming regularity. Here's a look at players from Pakistan who have been banned for their involvement in the dangerous game.
Saleem Malik: The former Pakistan captain was once rated amongst the most shrewd cricketers in the world, and among the better ones Pakistan had produced. He had a good record as Pakistan skipper and an excellent one as batsman, in both formats of the game – he averaged 42 in 103 Tests, which included 15 hundreds. In ODIs, he scored over 7,000 runs at a healthy average. In addition, he picked up close to hundred wickets as well in both formats of the game. He could easily have retired with the tag of being one of Pakistan's most versatile cricketers. Unfortunately, it wasn't to be. In 2000, he became the first player to be banned for match-fixing, a year which saw big names like Mohammad Azharuddin, Ajay Jadeja and Hansie Cronje fall by the wayside.
Ata-ur-Rehman: Sadly, this former Pakistan fast bowler's only claim to being a known name is his involvement in match-fixing. He was banned along with Malik, back in 2000. Tall and burly, he had all the attributes of being a successful fast bowler. However, his appearances were limited to 13 Tests and 30 ODIs, during which he scalped 31 and 27 wickets respectively. He impressed on debut as a 17-year-old in 1992, and could have gone on to do better things for Pakistan had he stayed away from match-fixing.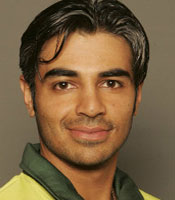 Salman Butt: Another former Pakistan captain, Butt has pleaded innocence in the spot-fixing controversy, but it would be difficult to believe him considering the evidence on display. Butt betrayed the nation in a manner that left them seething. He was appointed leader following a crisis in Pakistan cricket that saw the captaincy switch hands from Younis Khan to Shoaib Malik to Mohammad Yousuf. On the 2010 tour of England, it was Butt who was expected to resurrect Pakistan's fortunes, for he was in good form with the bat. Instead, he chose to involve himself and teammates in another, illegal game.
Mohammad Amir and Mohammad Asif: Both these talented Pakistan pacers were found guilty of deliberately bowling no-balls during the Lord's Test. And while there has been some sympathy for Amir considering he is only 19, Asif's character graph only fell lower. He was earlier banned for possessing illegal substance along with Shoaib Akhtar and has been involved in innumerable controversies. Clearly, the most talented Pakistan cricketer not interested in playing the sport.
--By A Cricket Analyst