Match Report of West Indies Vs Australia, Day 3, 2nd Digicel Test at Port of Spain by Garfield Robinson
Nathan Lyon triggered a late-evening collapse to leave Australia in the ascendency at the end of the third day of the second test at the Queens Park Oval. The West Indies, on the back of a 130 run partnership between Shivnarine Chanderpaul, who got 94, and Narsingh Deonarine, 55, had batted themselves in a position to challenge Australia's 311 when the wheels came off. From 230/4 they fell to 252/9 by days end, 59 runs adrift. The pair spent approximately 45 overs together before they were parted by Lyon who was entrusted with a ball just 7 overs old.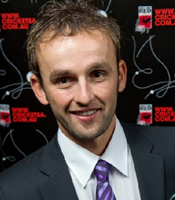 Deonarine was the first to go, stumped as his momentum dragged his back leg past the line while reaching far down the track for a Lyon delivery that turned and evaded his bat. The West Indies then lost 4 more wickets to Lyon within 12 overs. He had completed 20 overs for 52 runs without taking a single wicket before he got Deonarine. His next 7 yielded 5 wickets for an additional 16 runs. It was just reward for his consistency and persistence.
The unavailability of the DRS, caused by a power outage, needlessly delayed the start of play by 20 minutes. Needlessly, because, according to the rules, play should have carried on without it. Besides, didn't Australia, the ones reportedly reluctant to play without it, participate a recent series against India with no DRS? More time was therefore lost in a game that scheduled an early start to the day to compensate for time already lost due to rain and bad light.
Chanderpaul and Bravo tried to be positive from the start, with the Guyanese even venturing down the pitch to the spinners on a few occasions. The two remained relatively untroubled, though Chanderpaul had a lucky escape on 8 when a deflection from the keepers pad deflected an edge that was heading straight into Clarke's lap at slip.
Pattinson replaced Hilfenhaus after 34 minutes and Bravo greeted him by playing the most rousing shot of the morning, standing tall on his back foot to smash him to the cover boundary. Chanderpaul joined in when he waited on a Lyon delivery and placed it backward of point for 4 and brought up the hundred a few overs later when he glanced Hussey off his hip to fine leg for a single.
Bravo, who seemed in no discomfort, was LBW to Hussey off the very next delivery when he missed a ball that probably straightened just a little after pitching leg stump. Hussey had replaced Lyon for no apparent reason. If anything it should have been Watson's turn; that would have been the more logical choice. But such are the wiles of the Australian captain.
Bravo's departure ushered in a period of very slow scoring. In approximatly16 overs only 19 runs were scored. Deonarine had taken 43 balls over 4 runs when he unsheathed two consecutive sweep shots to welcome Lyon, who had relieved Hussey, and to rush his score to 12. Chanderpaul got in the mood and swept Beer first ball next over, which was the last before lunch, behind square for another 4. Deonarine narrowly missed being run out off the last ball and West Indies went to lunch at 132/4 with Chanderpaul 45 and Deonarine 12.
Chanderpaul collected his 50 in the first over after the break. Pattinson returned to the attack next over and gifted Chanderpaul 14 runs. Three badly lined deliveries were adequately punished in an over that contained 2 no-balls. Runs then came steadily, if slowly. Warner, who came on an hour into the afternoon session served up a juicy full toss that Deonarine deposited over the midwicket boundary for 6. Next over the showers, which had threatened for a while, arrived and the players marched off.
Play resumed at 3:55. A few overs later, Chanderpaul heaved Beer over midwicket for 6 and the partnership was worth 102. Runs were now coming more quickly and Clarke took the new ball as soon as it became due. An emphatic cover drive to a wide half volley brought Deonarine a well-earned 50. Another boundary next over, this time off his legs, and you could see him brimming with confidence. Overconfidence even, because when Lyon replaced Hilfenhaus an over later he tried to reach out and drive at a ball he didn't get close enough to, and the partnership that had instilled so much hope had been broken.
Chanderpaul got out in Lyon's next over, LBW to a ball that probably didn't turn as much as he thought it would. Sammy then foolishly--considering the situation and his position in the team--went down the track, didn't get close enough to the pitch, and lofted to Hussey at long-on. Lyon took care of Shillingford next over, and then Roach was dismissed by a catch to the keeper that he would have reviewed had he been able to.
For most of the day the West Indies would have been confident that they were very much in this game. By days end, after an all too familiar collapse, they would have been much less certain.