Match Report of Day 1 - West Indies Vs Australia, 2nd Test at Queen's Park Oval, Port of Spain Trinidad by Garfield Robinson
Australia ended a difficult day for batting at the Queens Park Oval in Port of Spain on 208/5. The West Indies may feel that they did a fairly good job in restricting the Australians, but it is difficult to make a true assessment on a pitch allowing considerable turn and already showing signs of unpredictable bounce. Any total over 250 might yet prove difficult to surmount by a West Indies batting which has already shown signs of brittleness in this series.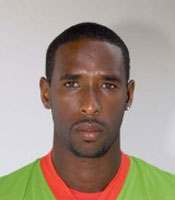 Shane Shillingford, returning to the test side bowled 2 very long spells, one lasting 16 overs and another 15, and troubled every batsman with the considerable turn he elicited from the track. He ended the day with 2 for 56 from 32 miserly overs. Deonarine had his moments too as he also made life difficult for the batsmen, though he got his lone wicket with probably the worst ball that he sent down all day.
Shane Watson was Australia's best batsman on the day, scoring a hard-fought half-century at a strike rate of 32.55. Michael Clarke, willing to use his feet to the spinners, looked the most at ease, and must have been heartbroken to have perished as needlessly as he did.
Australia won the toss and chose to bat under overcast skies on a bare and dry Queens Park Oval surface that turned out to be so lifeless that fast bowling great Michael Holding suggested that a tombstone would not have been out of place. Despite the lack of pace, Warner and Cowan, though maintaining a high scoring rate, had some difficulty negotiating the opening overs, especially those bowled by Fidel Edwards who got some early swing.
Warner in particular was fidgety and uncertain and one ball coming into him from Edwards caused the game's first moment of drama in its opening over. Umpire Erasmus raised the finger in rendering a verdict of caught behind against Warner. The ball had in fact come off the pad, and in any event, had bounced before it rested in Carlton Baugh's glove. Sammy Immediately indicated that it hadn't carried and withdrew the appeal. It turns out, however, that an LBW decision would have been an entirely reasonable one by the umpire and would not have been overturned upon review. But the appeal, and the response to it by the umpire, was for a catch by the wicketkeeper and LBW was apparently not considered.
Australia, with good reason, had decided on two spinners for this game, and so Michael Beer and James Pattinson replaced Peter Siddle and surprisingly, Ryan Harris from the first test. The West Indies, dissatisfied with Bishoo's offerings in Barbados replaced him with Shane Shillingford who had taken 38 wickets in 5 matches in the regional competition and he entered the attack after fifteen overs.
There was evidence of turn from his second ball. His fifth, of full length around off-stump, prompted Warner to drive; he edged to Sammy in the slips and Australia was 53/1. Shillingford had thus resumed his test career, interrupted for remedial work on his action, by taking a wicket in his very first over. And he continued bowling well too, asking probing questions of both batsmen.
Fifteen minutes before lunch Roach returned to the attack, and bowling round the wicket had Cowan out LBW for 28 with one that came into him just a little. This brought in Ponting to continue his contest with Roach from the last series. One short ball rising a little above his hip had him skying a ball that, fortunately for him, landed safely in the outfield. In his prime he would have been on his backfoot almost as soon as the ball was released, waited, and then decided where on the boundary or in the stands he wanted to deposit it.
Roach got him soon after a slightly extended lunch break (due to rain) with a peach of a delivery that angled in on off-stump, straightened, and bounced more than Ponting expected. The resulting edge bounced out of Baugh's glove, who must have been relieved to see it grasped by his captain.
Clarke looked in good touch from the beginning, counting two fours from his first four balls. Watson brought up the hundred in the 37th over when he played a cut off the front foot to the backward point boundary and they both carried Australia safely to tea, by which time they had added 49 in painstaking fashion against some tight bowling by the West Indies. Even Fidel Edwards, not known to be the most frugal of bowlers, had a spell of 5 overs for a single run.
The batsmen seemed to have decided, over tea, that such an approach would not do and so they resumed for the evening session in aggressive fashion. Eighteen runs came in the 10 overs before tea; the first three overs after saw them score 23. By this time, Watson had brought up his fifty with a single to long on.
Clarke was saved by DRS after he chose to stay on the back-foot to an off-break on good length and was struck on the pads. Hawkeye showed that he was hit outside off-stump and so he continued. Only to fall soon afterwards to a ball that he could have hit anywhere in Port of Spain. Deonarine had come on for Roach and served up a juicy half-tracker first ball that Clarke hit down the throat of Shillingford on the deep mid-wicket boundary.
Australia was now 167/4. It became 178/5 when Watson, pushing long forward to Shillingford, was caught by Barath at short leg off bat and pad. Australia ended the day with Michael Hussey on 26 and Matthew Wade on 11. Both were given lives. On 5 Hussey was put down by wicketkeeper Baugh off Shillingford, while Wade, when 2, gave a difficult chance to the forward short leg fielder.
Meanwhile, thousands of miles away, Sunil Narine snared 5/19 bowling for his IPL team The Kolkata Knight Riders. How the West Indies would have liked to have him on this surface!