West Indies Vs Australia, Day 5, Second Test at Queen's Park Oval, Port of Spain Trinidad - Match Report by Garfield Robinson
Rain and bad light scuttled the chances of a fascinating finish to the second test at the Queen's Park Oval. Australia closed their innings at 160/8 to give the West Indies 61 overs to get 215 runs. The West Indies reached 53/2, with Sammy, who promoted himself to number 3 in the order, and Bravo still at the crease and intent on chasing the runs.Hilfenhaus, though struck for 14 in one over by Sammy, took 2 wickets in an opening burst of challenging outswing bowling.
Roach had earlier taken 5 wickets to end with 10 in the match. It was the first time in 7 years that a West Indies bowler achieved this and it was thoroughly deserved. Bowling with fire throughout, he tested every Australian batsman on a pitch that was not very helpful to fast bowling. He should be a real handful in more suitable conditions.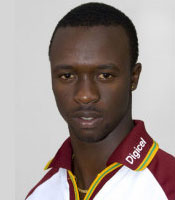 A wet outfield meant that play did not commence until 10:15, a delay of 45 minutes. There were still clouds about, but they were high and did not present any immediate threat. Captain Sammy decided to begin with Roach and Edwards and in the mornings third over Roach, and the close-in fielders, went up with a mighty LBW appeal against Clarke. Stunned that the umpire did not raise the finger they requested a review, only for Hawkeye to side with the umpire and confirm that the angle of the delivery would have taken it down the leg side.
It appears that there is a decision to limit Fidel Edwards to 5 over spells. After toiling all game he managed, in his fifth over, to get his first wicket when he urged Ponting to hook a short ball, in the air, to exactly where Kieran Powell was posted on the boundary at backward square leg. He was then removed from the attack when one would have thought that he would be eager to continue.
Meantime, Sammy had replaced Roach, and in his second over he stretched far to his right to accept a return catch off one that had stopped on Clarke.
By the time the lunch break came Australia were 123/5, with a lead of 177. If one had thought that Australia would have been pressing for runs in the morning session in order to declare and set a total for the West Indies to chase they would havebeen puzzledas to why only 50 runs were scored from the 25 overs bowled in the session.
After lunch, however, no one doubted their intentions when Hussey, stepping out to Deonarine's first ball, launched him over mid-off for six, before swinging the third round to the midwicket fence for four. Twelve came off that first over, but shortly afterwards, Roach bowling beautifully, as he had throughout the game, had Hussey playing on to a wide one that he attempted to cut. Three balls later he brought one back to hit the top of Hilfenhaus' off-stump.
Australia was now 149/7 and Roach had gotten his second five-wicket haul for the match. At 160 Sammy caught Lyon off Shillingford and Clarke signaled the declaration by indicating that Wade, on 31, should accompany Lyon off the field. This meant that the West Indies would have to score 215 runs off a possible 61 overs,provided the light held and the rains stayed away. They didn't. And only 11 overs were completed before play was stopped for bad light, to be followed by showers soon afterwards.
For their second innings, the West Indies decided to send the more positive Kieran Powell to open the innings with Barath, instead of the more subdued KraigBrathwaite. But he only had time to unfurl one beautiful off-drive past mid-off for four off Beer, who opened the bowling once again, before he was out.
Assured by the umpires that the light was adequate for him to bowl his fast men, Clarke brought Hilfenhaus from the other end. His fourth ball pitched around middle stump and swung back into the left-handed Powell and he was LBW once again. This time he chose to ask for a review, but again it was the wrong decision. In the first innings he refused to request one when it would have saved him.
The sight of Sammy striding to the middle confirmed to all that the chase was indeed on. Few batsmen can hit the ball farther, but he is usually in at 8, and so the West Indies' intentions were clear.
Barath was 5 when he fell victim to as lovely an out-swinger as one could hope to see. Delivered on a good length, and right on off-stump, the best he could have done was hope to miss it. It took the edge and Clarke happily accepted the catch at first slip. West Indies was now 13/2 and Bravo came out to join his captain.
Watson then replaced Beer and Sammy hit his first two balls for four. Two pull shots for fouroff Hilfenhaustwo overs later were followed by a lofted drive high over mid-off for six. A few minutes afterwards the umpires decided it was too gloomy to continue and they trudged off. West Indies had moved to 53/2 with Sammy on 30 made from 26 balls and Bravo on 8.
The teams now move to the Island of Dominica, where the third test will be played, starting on Monday, at Windsor Park in Roseau.